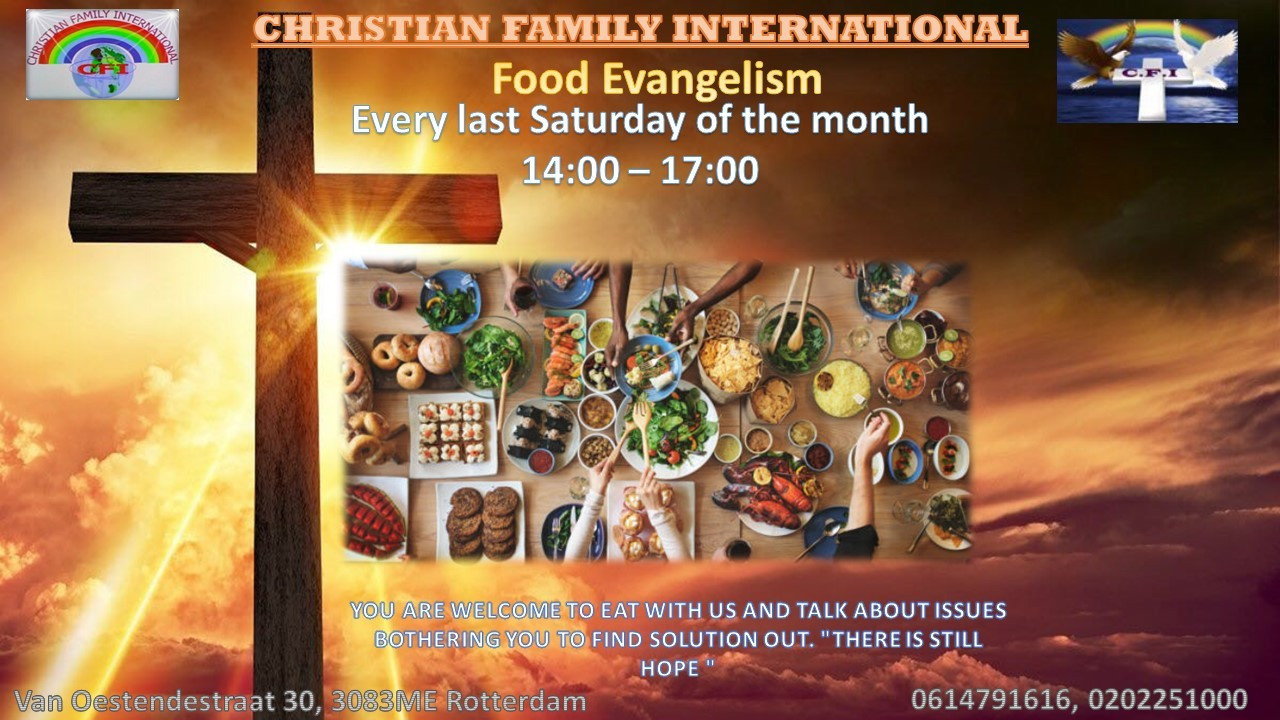 Sundays
13:00hr-16:00hr. (Worship)
Tuesdays
18:30hr-21:00hr.
(Bible studies. Healing and Deliverance service)

Every First &Third Friday of the Month
Watch-Night: 23:00hr.

Every Second & Four Friday of the Month
Healing, Deliverance and Teaching service: 20:00hr. To 22:45hr.
Saturdays
19:00hr-20:00hr. (Prayer time)
Every last Saturday of the month
Food Evangelism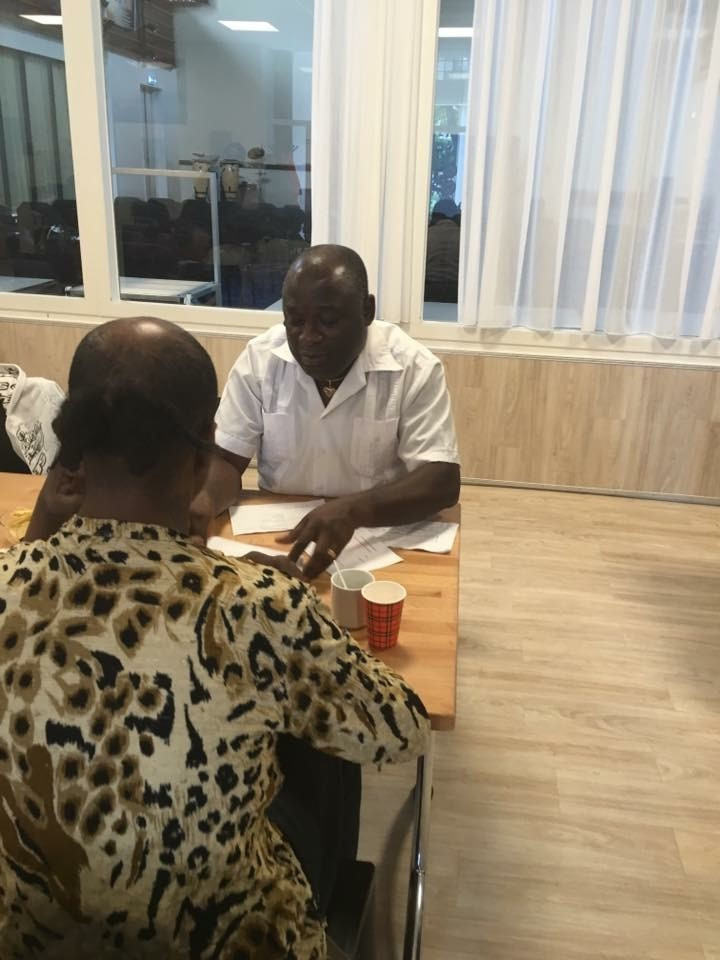 Support for people without a passport.
We have given this kind of support to people a lot in recent years. Our target group here are immigrants who are only in the Netherlands because the situation in their home country is not too favorable. These people do not have good control of the Dutch language and have a hard time knowing how things work in the Netherlands. We do not provide this assistance on a project basis, but we provide it to every person who says they need it. We try to guide people through the process as good as possible in order to ultimately obtain Dutch nationality or a residence permit. We do this in various ways, such as: reading their letters, assisting with appointments and financial support
Support for families in need
We also provide support to families in need. We do this by giving food, clothing, and money. We also do this in response to people who indicate that they need this type of help. In the past two years, we have helped several families. Unfortunately, we have not constantly documented this and therefore it is difficult to estimate how many families we helped. But by the grace of God, it was a significant amount

Helping the homeless
Nor do we provide assistance to homeless people on a project basis, but rather to people who come into contact with us. We have an office on the Tiendplein in Rotterdam West where many people in need regularly visit. In this way we come into contact with different homeless people, who we then try to help as well as possible. We do this primarily by offering food, clothing and giving hope and advice.
Guidance for men or women
Every Wednesday and Thursday we give the opportunity to several men or women to schedule an appointment with regard to guidance in their personal circumstances. So this is help in the form of giving advice. This is not a one-off but a process. We try to give them as much hope as possible during the stressful situations, and to provide them with spiritual, and if necessary, financial support.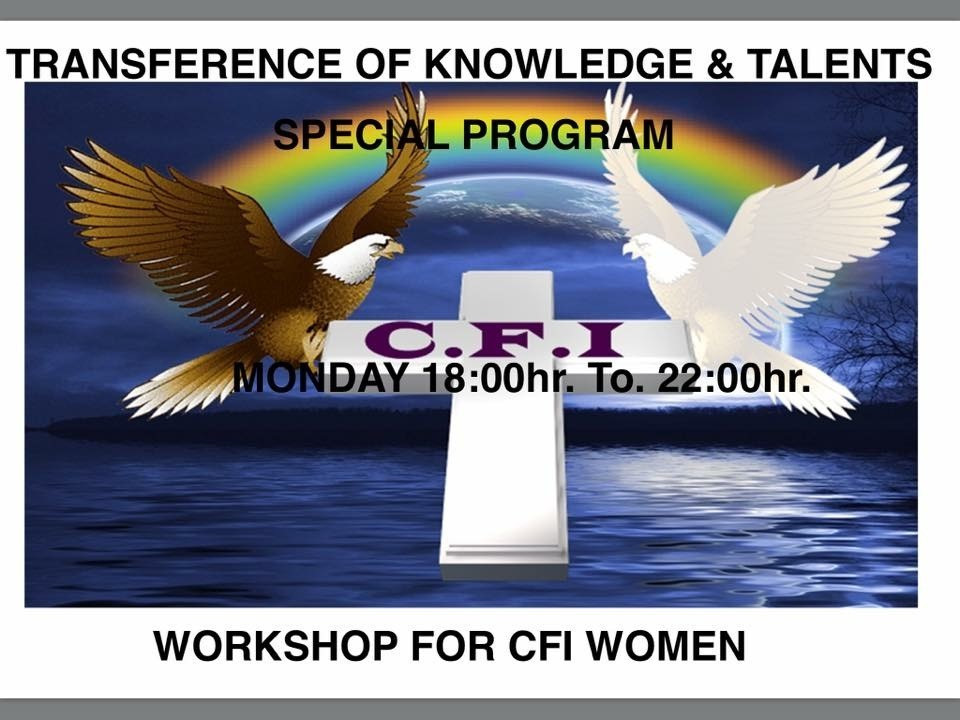 Giving food to people in need in the community
We do this through an event that takes place every fourth Saturday of the month. We come together and invite people to the area. Everyone is welcome. People in need, but also people who are looking for more unity in the community. We come together in the van Oestendestraat and eat and talk together and motivate each other. We do this consistently on every fourth Saturday, so that people in the neighborhood, especially those in need, are aware of this. Every fourth Saturday everyone can come and eat for free and have fun. If outside this last Saturday of the month, a person in need of help comes to our organization to report that he/she is short of food, we will of course also help these people. The fourth Saturday is only a standard event

Transferring knowledge from woman to woman
This project is known as "women for women, transferring knowledge." Under this project, we organize a workshop for women in Rotterdam four times a year. We started this in the Charlois area, Rotterdam South. The workshops are often held from 6:00 pm to 10:00 pm on a Monday evening. We strive to give two workshops per evening. What we find important about this is that different women come together to share their talents with each other, to motivate each other and to support. This also helps a lot for women's unify and to combat women's loneliness. In addition, it is always an evening full of laughter and fun. Our goal is to strengthen the social positions of women with these workshops and to create solidarity among women., and if necessary, financial support